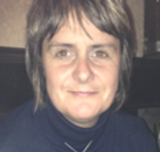 Evelyn is a Nurse Lecturer in the Nursing and Community Health Department of Glasgow Caledonian's School of Health and Life Sciences.
Evelyn completed her PhD – Living in 3D Social Virtual Worlds and the Influence on Health Literacy, Health Behaviour and Wellbeing in December 2015. In her PhD she argued for a social model of Health Literacy which included the multiple social skills and cultural competencies she found used by adults in a 3D social virtual world. These multi-literacies were similar to those found to be used by children and adolescents in the social web, avatar-based VWs and games. Evelyn was also involved in the steering group which created the Health Literacy Action Plan for Scotland.
She has presented at national and international conferences and published in peer-reviewed journals. Her main interests are the use of new and emerging technology to promote HL, health and wellbeing.